Whether you have bought the latest iPhone 7, you are going to need to protect it. We have rounded up the best iPhone 7 and iPhone 7 Plus cases that look just as good as the smartphone itself.
Torro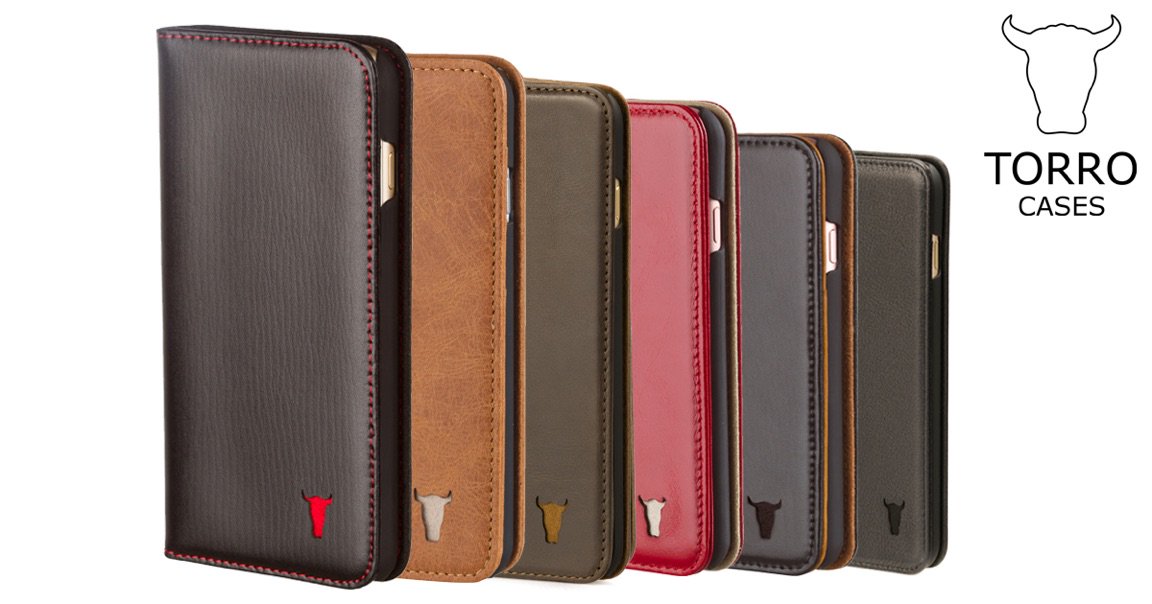 TORRO cases are handmade using premium genuine leathers sourced worldwide. The cases are designed to be light and thin, whilst still stylish. On the inside of the covers is a soft touch moulded frame to securely house the device as well as additional storage for bank notes and cards.
Available in Italian Black, USA Tan, Napa Black and TORRO's latest chestnut Dark Brown leather. RRP £24.99 – £28.99 depending on model and finish.
More details here.
UAG Monarch
UAG's Monarch Series is built with quality materials consisting of 5 protective layers. Starting with UAG's signature armour frame and shock-resistant core, layered with top-grain leather, a polycarbonate shear plate, and alloy metal hardware—all wrapped in impact-resistant rubber. For added confidence, UAG is extending their limited warranty on the Monarch Series to a full 10-years, covering materials and workmanship.
Monarch cases feature upgraded side grips with honeycomb traction designed to provide a firmer grip, as well as oversized tactile buttons for precise use. The design of the camera opening provides a glare-free flash, ensuring that the case doesn't interfere with the quest for flawless photos. Monarch cases are lightweight, weighing only 1.4 ounces, and perfect for those who want sleek style and maximum protection without bulk.
Terrapin iPhone 7 Low Profile Wallet with Stand
The Terrapin Ultra Slim Fit Apple iPhone 7 cover is one of the most practical and attractive slim fit cases out there.
Exclusively designed for the Apple iPhone 7 phone, this fantastic looking flip case is built to last with style. Crafted from premium synthetic leather this Apple iPhone 7 cover will wear well and maintain the look of your phone. The Apple iPhone 7 cover also has storage slots for credit cards and features a hands-free viewing stand, giving you a sleek and convenient phone carry option. It is sure to exceed your expectations.
Price: £8.95 from Amazon
Snakehive
British phone case brand Snakehive has launched the latest addition to its ever-expanding portfolio, unveiling the elegant Vintage Wallet Collection. Expertly designed in-house in the UK and hand crafted in Europe to meet the very highest standards, these beautiful cases are built to last. The designs keep your phone protected with effortless style and are as beautiful as they are practical by combining your phone and wallet in one.
The vintage wallet range is available in Burgundy, Plum, Chestnut Brown, Navy Blue and Black. The Two Tone is available in Black/Brown, Black/Plum, Black/Burgundy, and Black/Navy.
Prices start from £16.95 and are available on https://www.snakehive.co.uk
Proporta Ted Baker
Coinciding with the launch of its AW16 clothing line, Ted Baker has once again created a stunning line of iPhone cases. The collection utilises Ted's signature floral designs embodying Ted's unbeatable style and faultless tailoring.
This season's designs focus on eye-catching but simple designs. The cleverly cultivated colour combinations ensure your phone will be the subject of envious eyes. Whether you opt for the gorgeous Porcelain Rose on Ted's favourite folio case or the hard-shell Citrus Bloom print, this season your phone will transform into a distinguished fashion accessory.
Prices start from £34.95 (Proporta)
Peli iPhone 7 Voyager case
The Peli Voyager case has a slim design that doesn't compromise Peli's DNA – protective cases that withstand the most extreme conditions on Earth, as well as protecting your smartphone from day-to-day knocks and drops.  Multiple layers of rigid polycarbonate and energy-absorbing TPR work together to protect your phone whatever stress it's put under, and there are special built-in covers to protect against dust.  The phone case also has a soft-touch exterior to ensure it won't slide off surfaces or out of your hand.  The Voyager case boasts Peli's Lifetime Guarantee, for the ultimate reassurance
Price: the iPhone 7 Voyager case is available on Amazon UK, France, Germany, Italy, Spain, Mobilefun and other retailers, at £34.99.
Tech 21 Evo Elite
An all-new design and application technique means Evo Elite's sophisticated, iPhone® colour matched finish is now significantly more durable with improved scratch resistance. Available in Rose Gold, Gold and Silver and with 2m/6.6ft drop protection.
This guarantees a perfect fit, no loss in signal quality and no interference to Wi-Fi, mobile networks, Bluetooth syncing or features such as Apple Pay.  Core functionality such as camera, acoustics and sensors (such as Touch ID) will work the same with the case on or off.
Evo Elite in brushed black and rose gold will be sold exclusively at Apple retail stores nationwide and online at apple.com and tech21.com.  Evo Elite in grey is available at O2, Stormfront and tech21.com.
Price: £39.95 from Tech 21